As you guys might have noticed by now on my social media channels – yes, I cannot stop talking about it –  I recently moved to Copenhagen for my Master's Degree into my first real apartment with two of my friends. After one and a half years of subrenting different rooms and basically living in apartments of other people, I am so happy to be able to create my own home now. Strolling through all the amazing interior shops here in Copenhagen I wish I had an unlimited credit card… but reality is, IKEA is more or less my only option. Not that IKEA is a bad option at all, but I am someone who loves to do unique things; I appreciate individuality and to develop my own style. So, I decided to get a little bit creative by buying generic IKEA furniture and making little adjustments to them. Obviously I want to share those IKEA hacks with you, which are super easy, quick and most importantly, cheap! 
Turning the Vittsjö desk into a beautiful marble dresser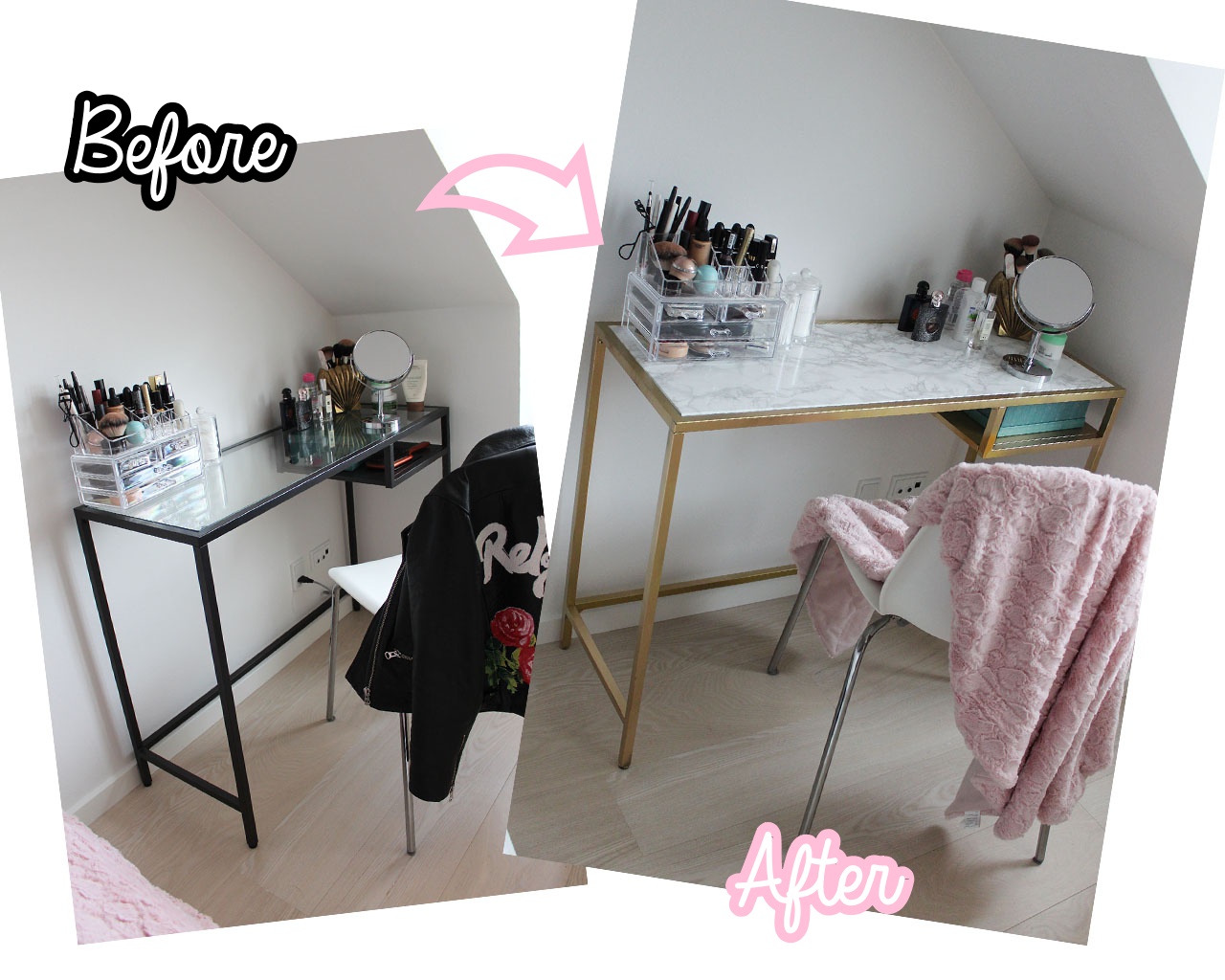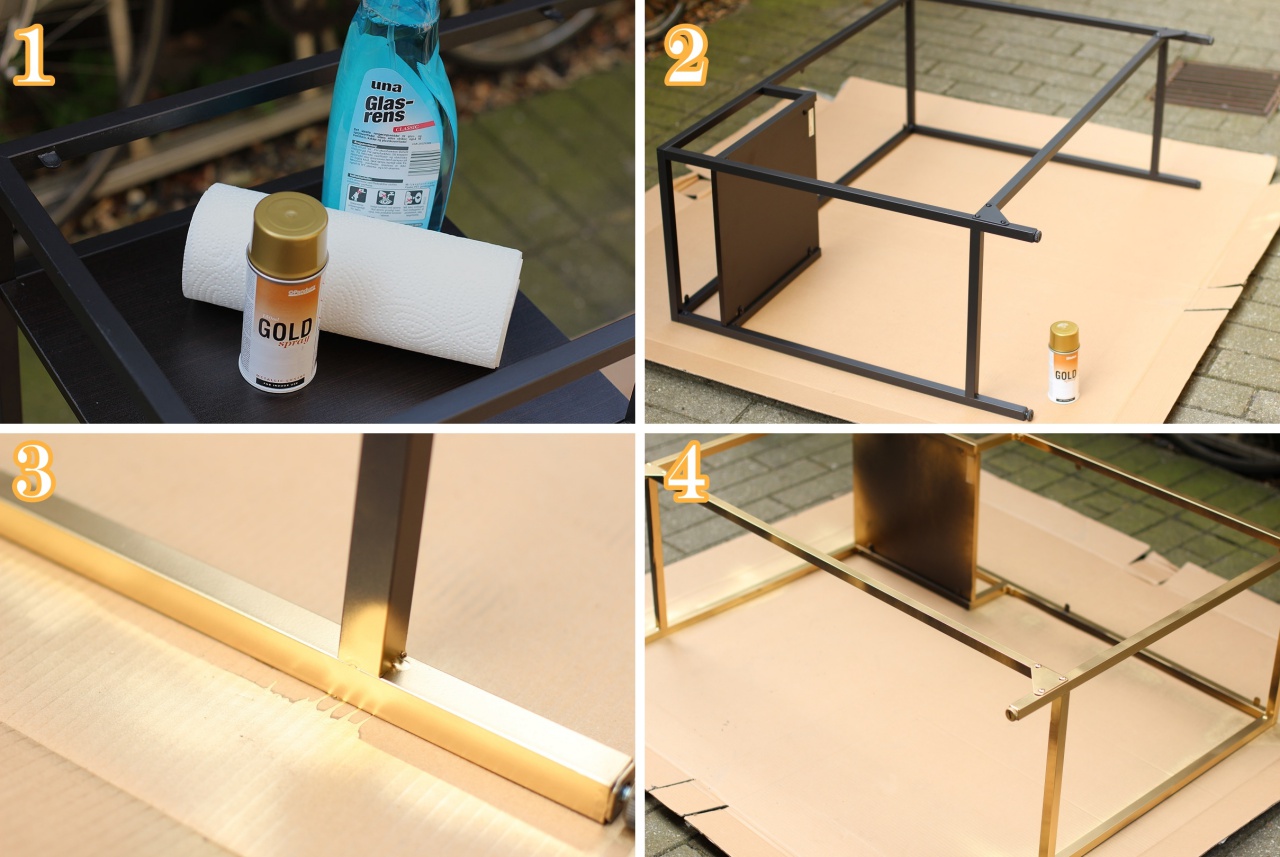 The design of Ikea's Vittsjö line is super clean – it only consists out of metal rods, available in black and white, and glass plates. While I really do like this minimalistic style, which is also typically Scandinavian, I also think that this series is the perfect basis for some creative DIY action.
My room is pretty small, but I decided that a narrow dresser would still fit into the room without making it look too packed. Since a dresser is spot where you make yourself pretty, it would be weird if it wasn't pretty itself, right? And mine should not only be pretty, but actually be one decorative highlight in my room. … and this is how I turned this 30€ desk into a high-quality looking, gold and marble dresser!
Before getting started you should buy gold spray at your local decoration or painter store, or simply online. It will probably cost around 8€ and you probably need two bottles. Get a big cover that will protect the floor from the color from spraying. Make sure to clean the dresser before you start spraying, because small dust particles might leave some ugly spots. The spraying should preferably be done outside, or in a room with big and wide open windows – I recommend doing it outside though. Then you can start coloring, let it dry for around 20min, and if necessary do a second coat. While drying, you can already start putting the marble foil on the glass plate, which you can also find at a decoration store or online for around 10€. It would be easier to do it with a second person, just to make sure that its straight and no air bubbles get enclosed.
Voilà, that was it – here is your unique, luxury hair dresser!
Tarva cupboard is getting a little buttons make-over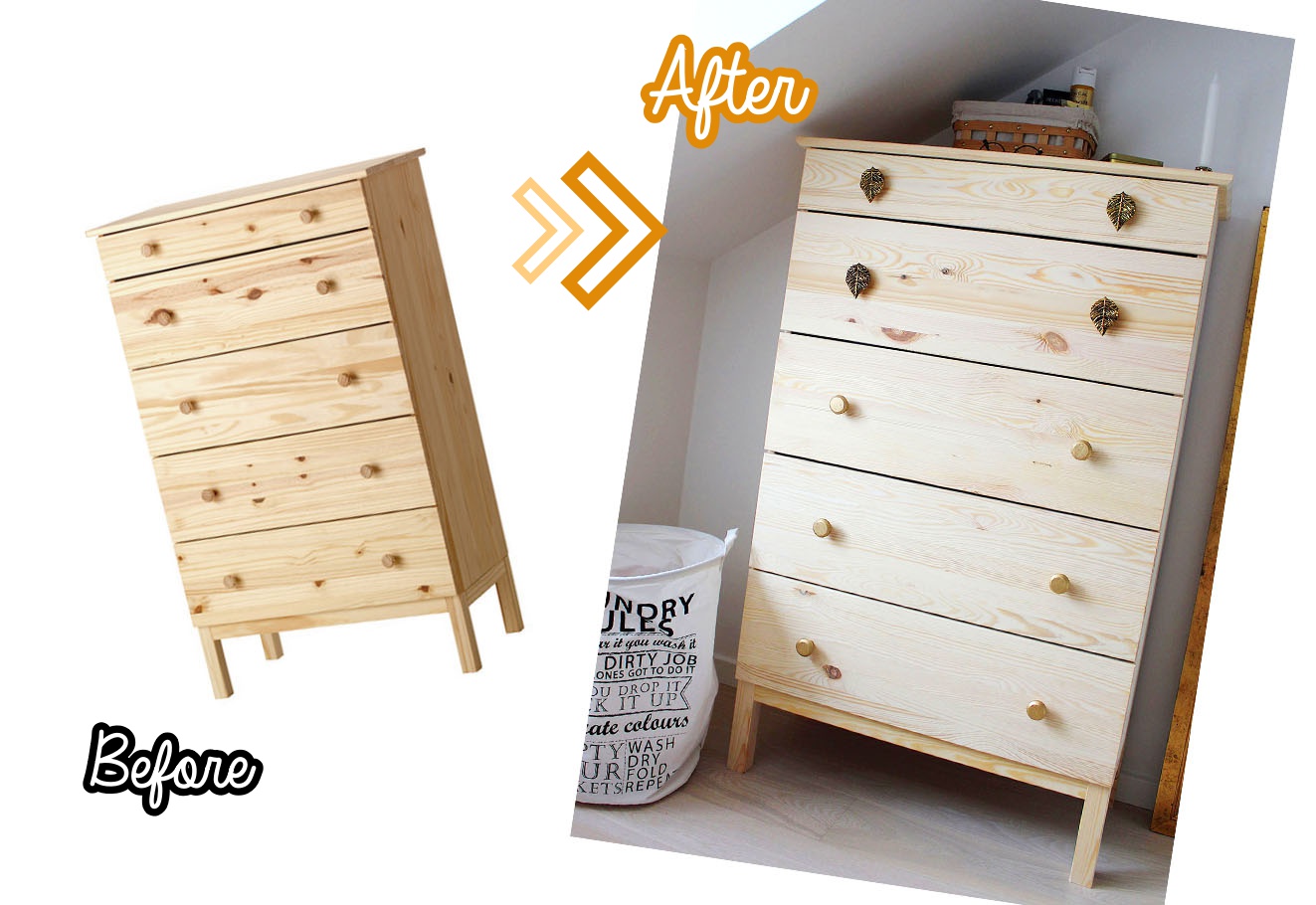 The Tarva cupboard is a very classic Ikea piece and absolutely represents the Scandinavian, minimalist style. Because it's so plain and simple, Ikea started an art project, where artists were given the chance to turn it into a real art piece by painting on it. As for my room, I wanted to maintain its original style, but still add a little twist to it. So I bought 4 beautiful, golden handles in leaf-shape from H&M home and sprayed the other handles gold. It's a minor change that I did, but I feel like it makes such a big difference… and I love it!

The Vittsjö shelf going black and gold
There we go, another Vittsjö meets gold spray project! My roommates and I were inspired by quite a few pins on pinterest, in which people had completely sprayed the shelf in gold. While out initial plan was to exactly do the same, we kinda feel like the black of the shelf fits quite well into the design of our living room, but we still wanted to bring in a little bit of golden sparkle. So we just decided to go black and gold! We wanted to keep it a little bit more industrial, so we even were not so precise with the gold spray, letting a little bit of black still shine through at some parts. We love the result!