"Only 20min until rehearsal! Guys, you need to be ready by then!" says one of the trend coaches of the Wella Professionals team backstage before the show by Antonia Goy.
The stress that designers experience right before they showcase their new collection during fashion week is pretty intense – I'm sure most of us can imagine that. Working half a year on a collection and having only 10 min to present it to the world is definitely nerve-wrecking. However, we do not think that much about all the other people involved in creating the perfect look for the runway. Dressers, stylists, make-up artists, hair stylists… of course they too must be pretty much under pressure!
Now I know for sure! During Berlin Fashion Week, I got exclusive backstage insights with Wella Professionals and Sebastian Professional, who were collaborating with the creatives of Der Berliner Modesalon for the 6th time to show us the most beautiful styles for spring/summer 2018. It took place at one of the most impressive venue – the Kronprinzenpalais – an impressive building that offered the designers so many different possibilities to present their collection, making each show so unique and offering a versatile experience to the audience. I truly loved observing the behind-the-scenes of this premium fashion and beauty event and want to share some insights with you.
Pressure is on – if the hairstyle is not well done, the whole collection will not live up to its maximum effect!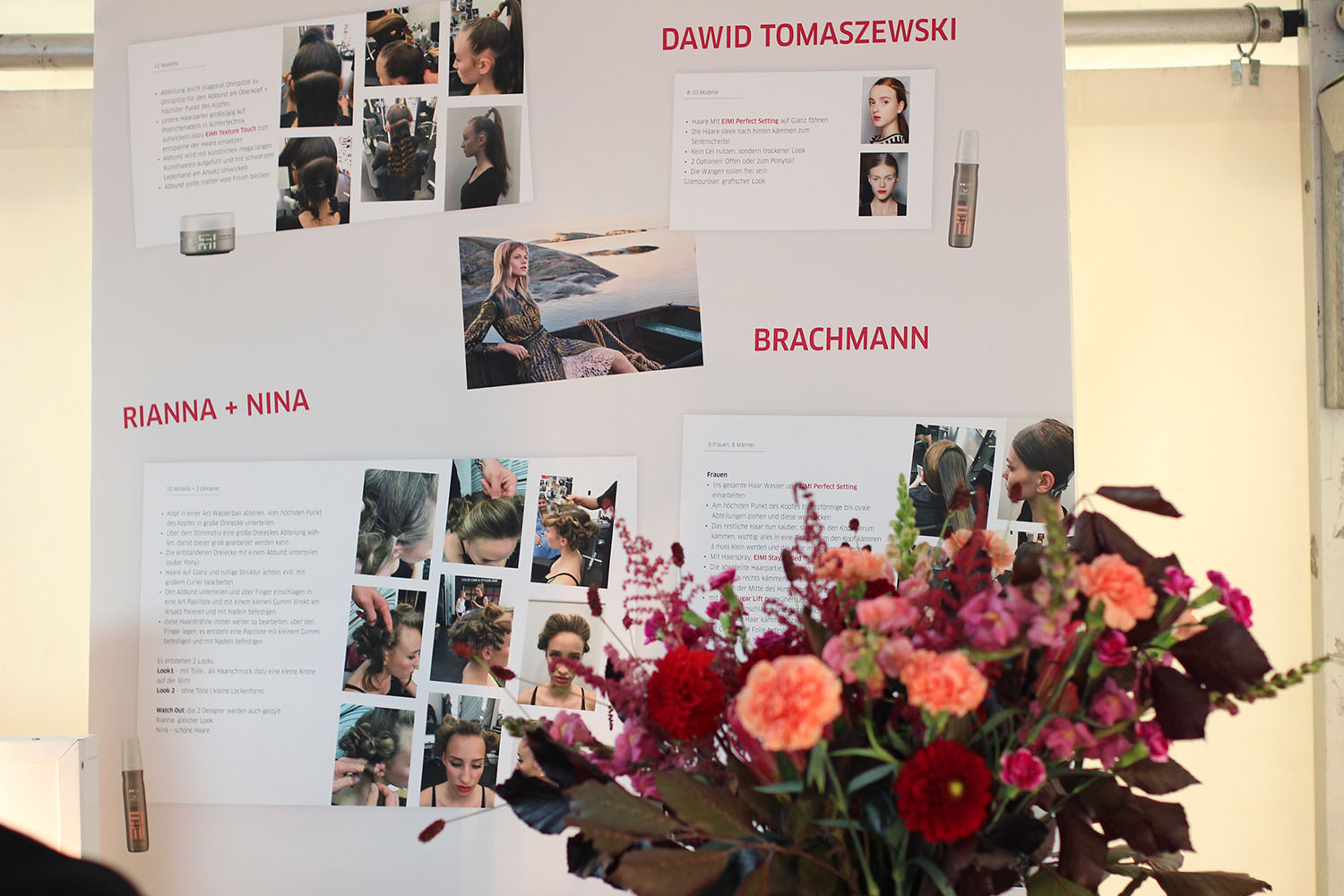 Stylists, models and hair products everywhere! What might seem a bit chaotic from the outside, is actually perfectly planned, timed and executed. The hairstyles that are created have been discussed and tested upfront with the designers and documented on the most important asset in the room – the style board! This is the central point of reference when doing the hairstyles, as it lists what techniques and products to use and shows how the final style must look like.
This year's style focus revolved all around the topic of Female Empowerment, which aimed at blurring the lines of traditional gender roles as well as breaking free from entrenched stereotypes. Dramatic ponytails, wild hair structures and bold, sleek cuts were created to get this message across. You could absolutely see how the different hairstyles, which were created with the Wella EIMI series, supported the versatile collections by designers such as Antonia Goy, Dawid Tomaszewski, Malaikaraiss, Lala Berlin or Marina Hoermanseder. But I guess the results speak for themselves!
Antonia Goy & The Leather Ponytail
The Berliner Modersalon and Wella Professionals kicked it off super strong with this high top ponytail for Antonia Goy. Fixed with a leather strap, filled up with some extensions, and fixed with loads of EIMI fixing spray, this look definitely was among my favorites. In general, I totally enjoyed the show – as unconventional as the hairstyle, the models danced around and interacted with the audience. Also the choice of models was thought through – no strict gender roles please! – Antonia Goy chose strong male and female personalities rather than the typical models.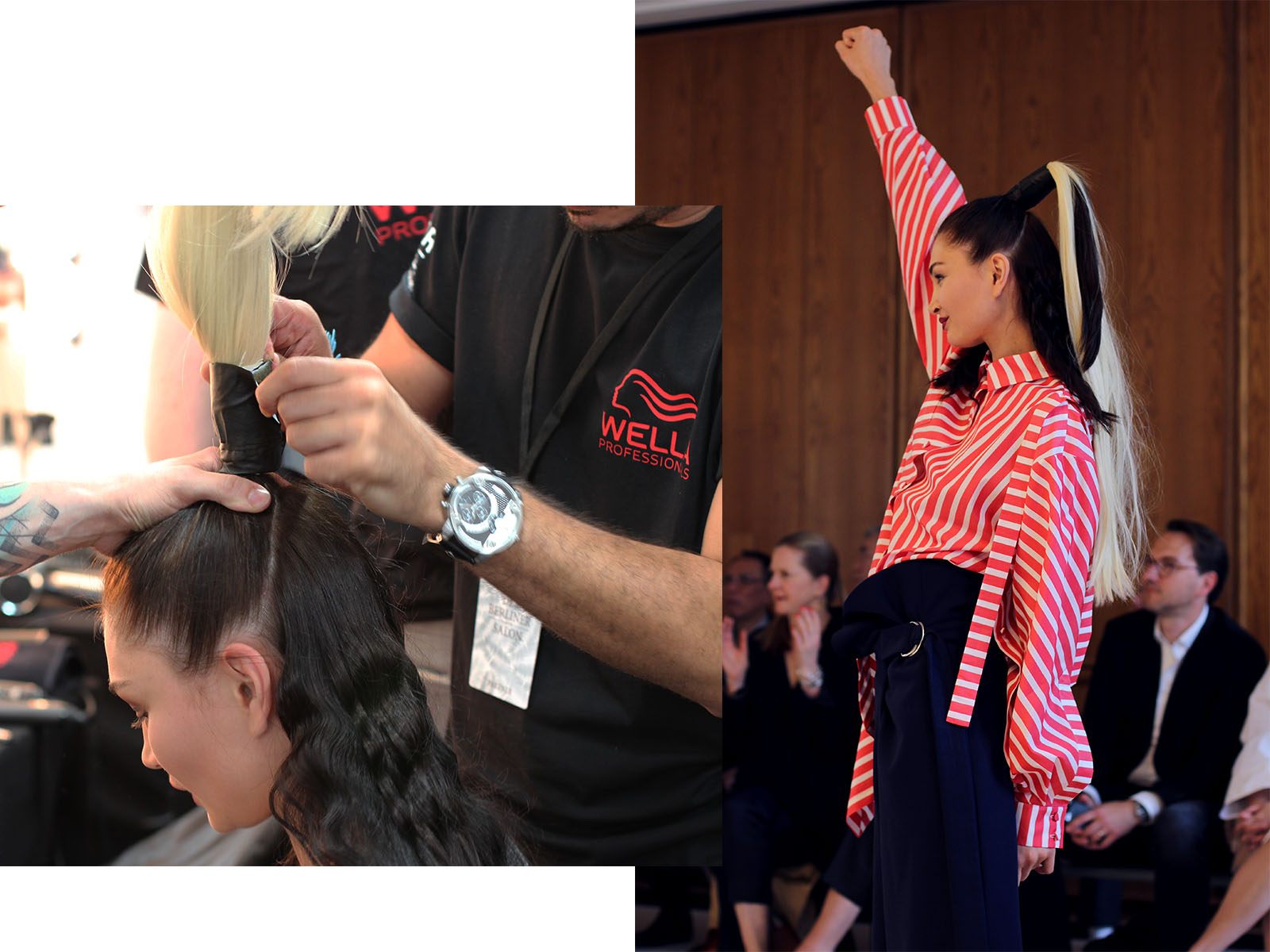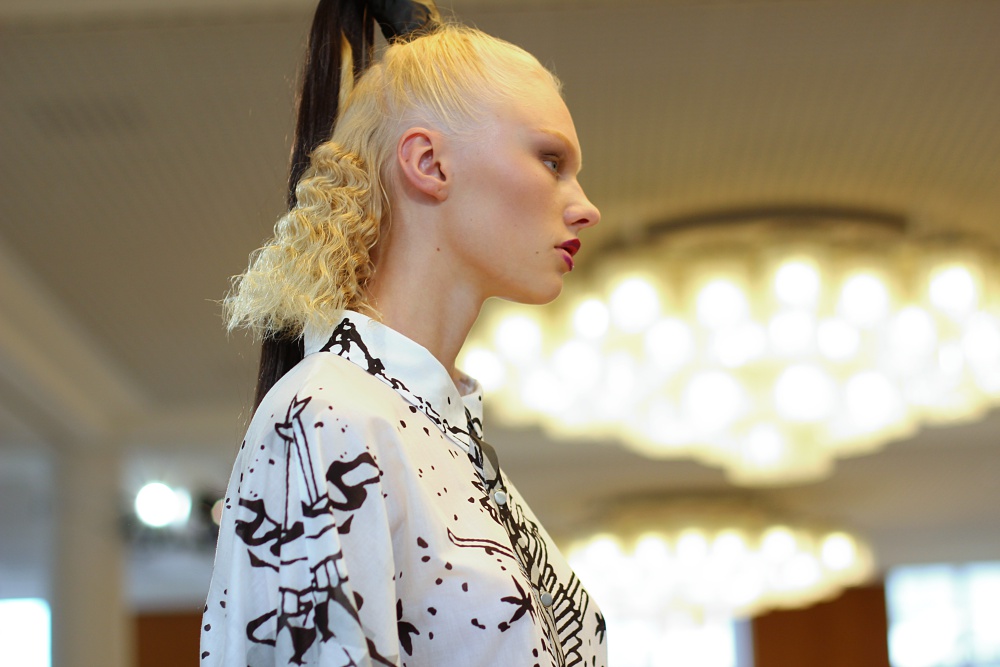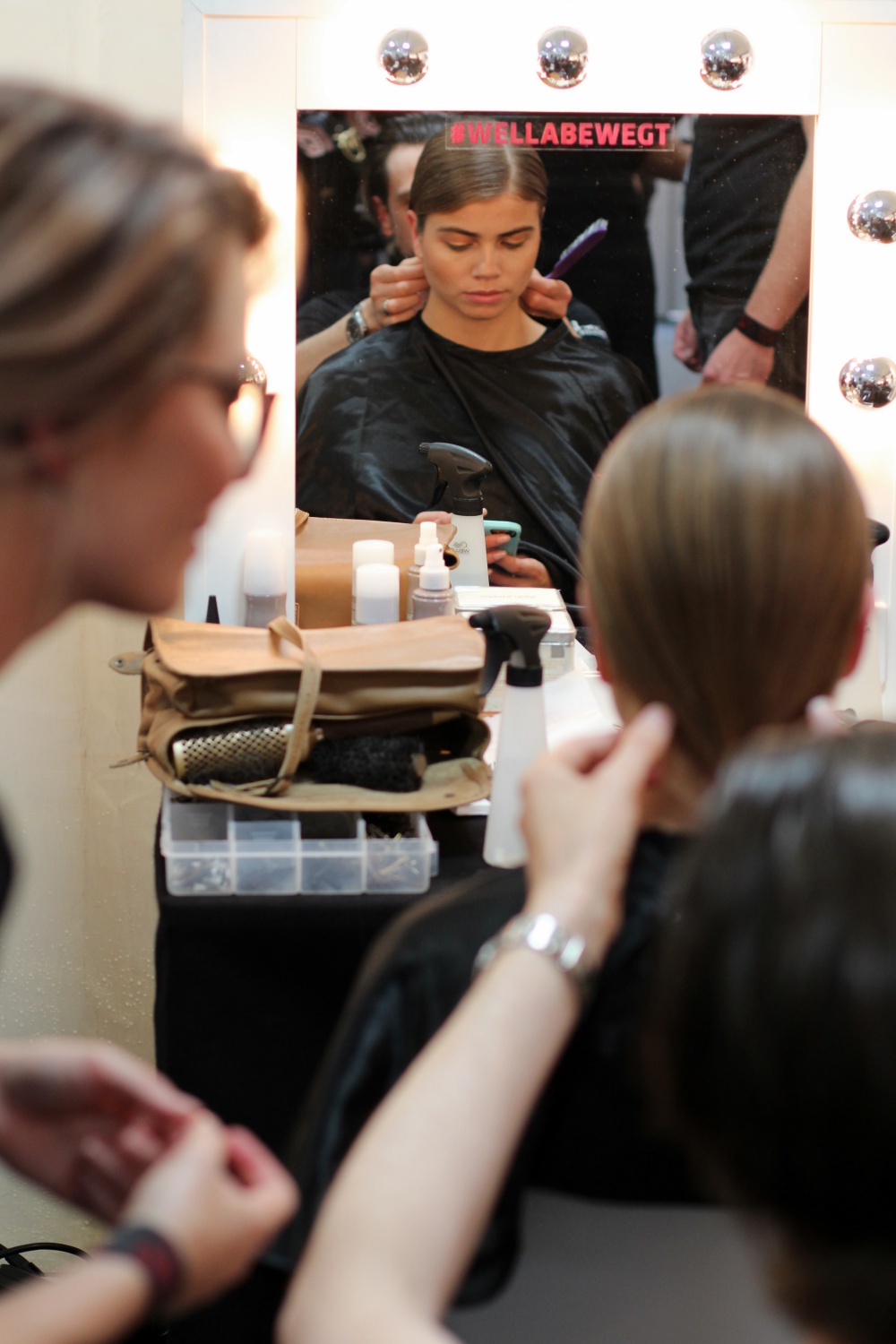 The Greek Goddess and the Classic Loose Bun
I just recently discovered the Berlin-based brand Rianna & Nina and immediately fell in love with their strong colors and prints. Wella Professionals created this beautiful greek-goddess inspired hairstyle that just perfectly matched their feminin collection. A little less colorful and more experimental is the new collection by Vanessa Schindler. She simply uses amazing combinations of fabrics and that way designs really unique pieces. I'm glad that Wella Professionals created a simple, loose bun for this collection, since the simplicity of that hairstyle is the ideal perfect balance.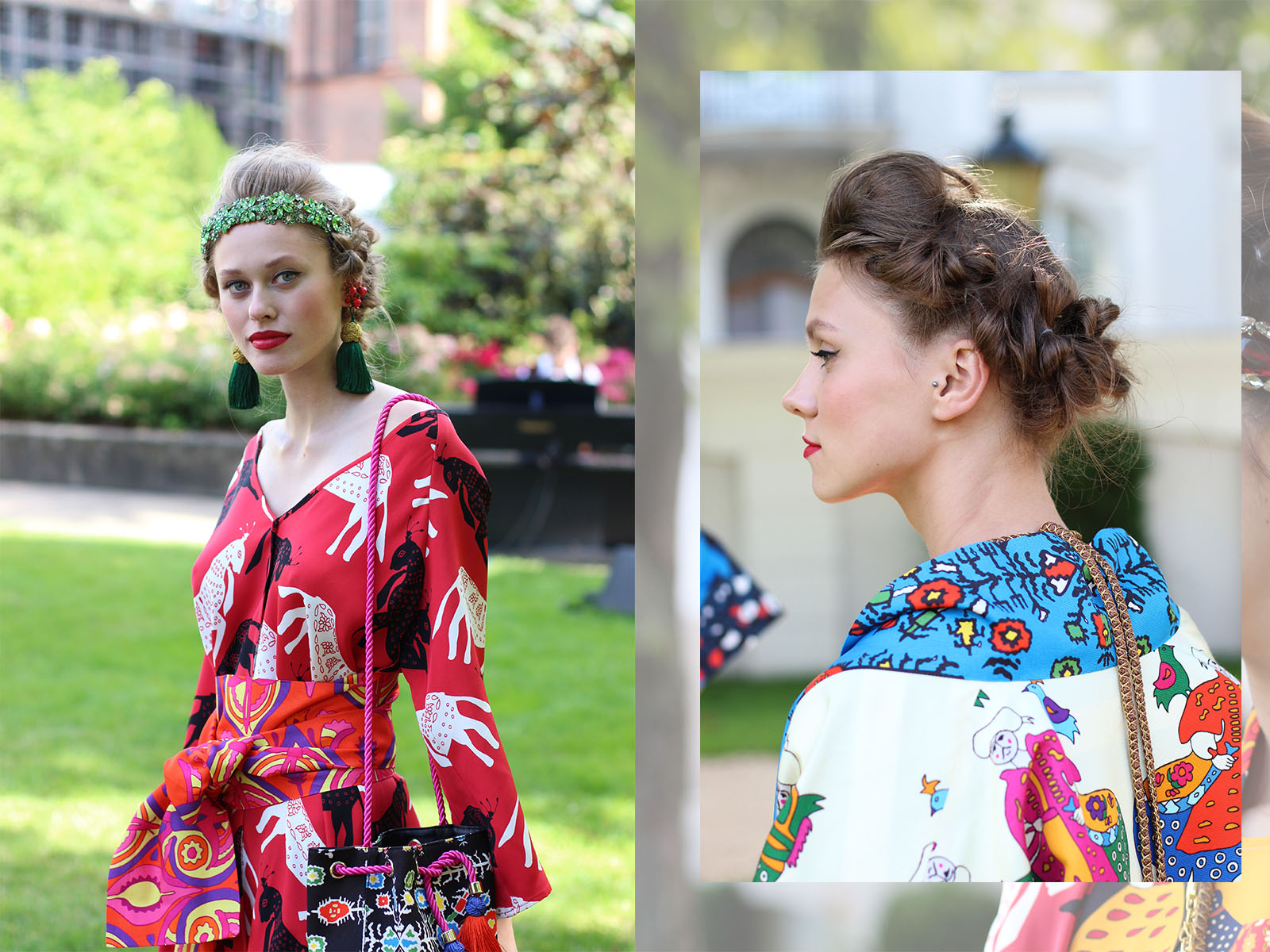 Malakaraiss, Lala Berlin, Marina Hoermanseder & Michael Sontag do it the Sleek way
I think that sleek hairstyles are a powerful statement – they imply that you are not afraid to show your face and that you can speak up for yourself. At the same time though, sleek stands for elegance and a little bit of mystery. No wonder that Malakaraiss, Marina Hoermanseder, Michael Sontag & Lala Berlin chose sleek hairstyles to present their expressive collections. While Malakaraiss went for the top knot, Lala Berlin decided for a bold middle-parting and a wavy structure.  For Marina Hoermanseder, the Wella Professionals teams created a fake Boy-Cut, which was inspired by the Russian pop-culture "Gopniks". Short & colorful is the style Michael Sontag chose, adding a little playfulness to the sleekness.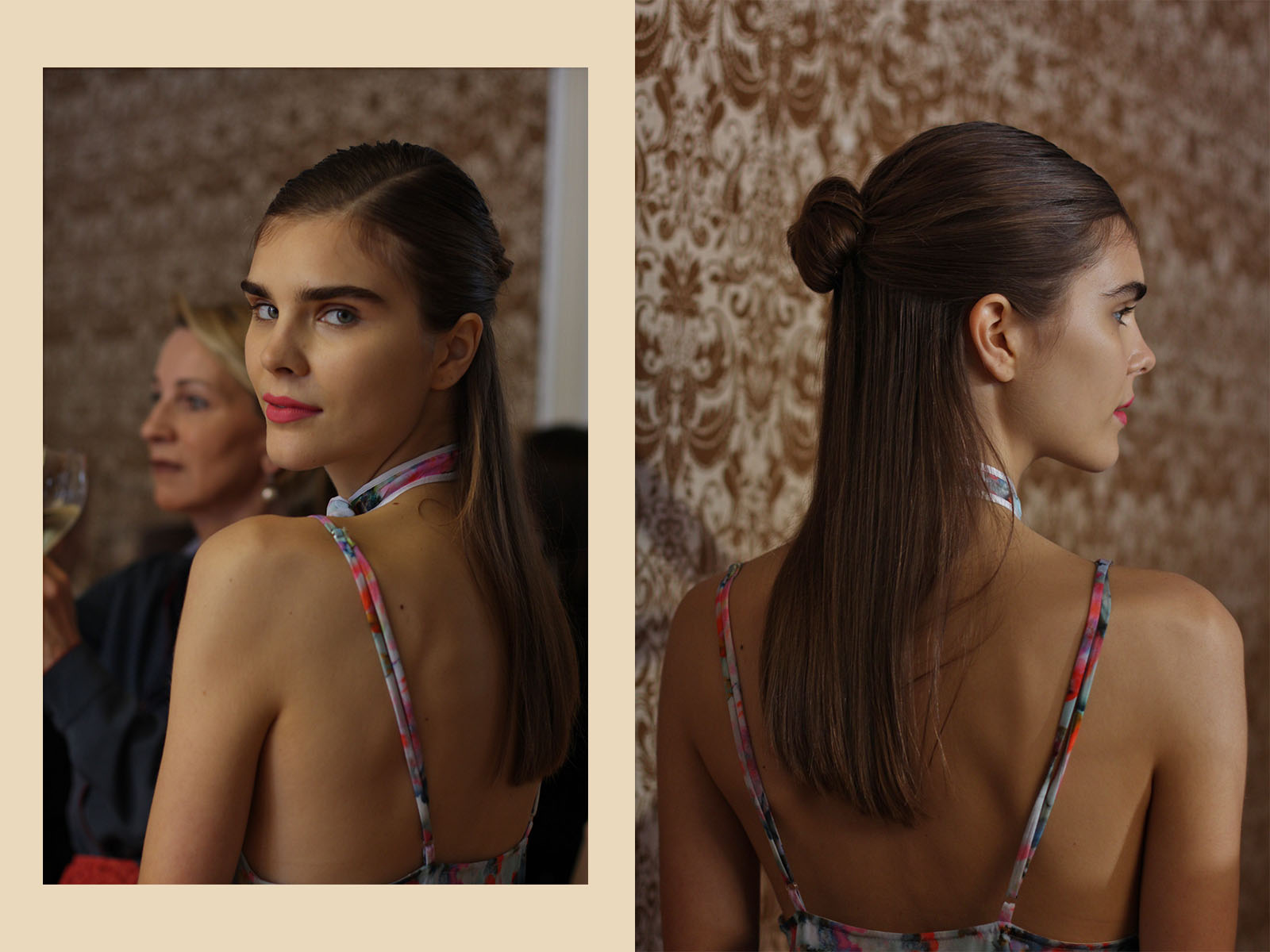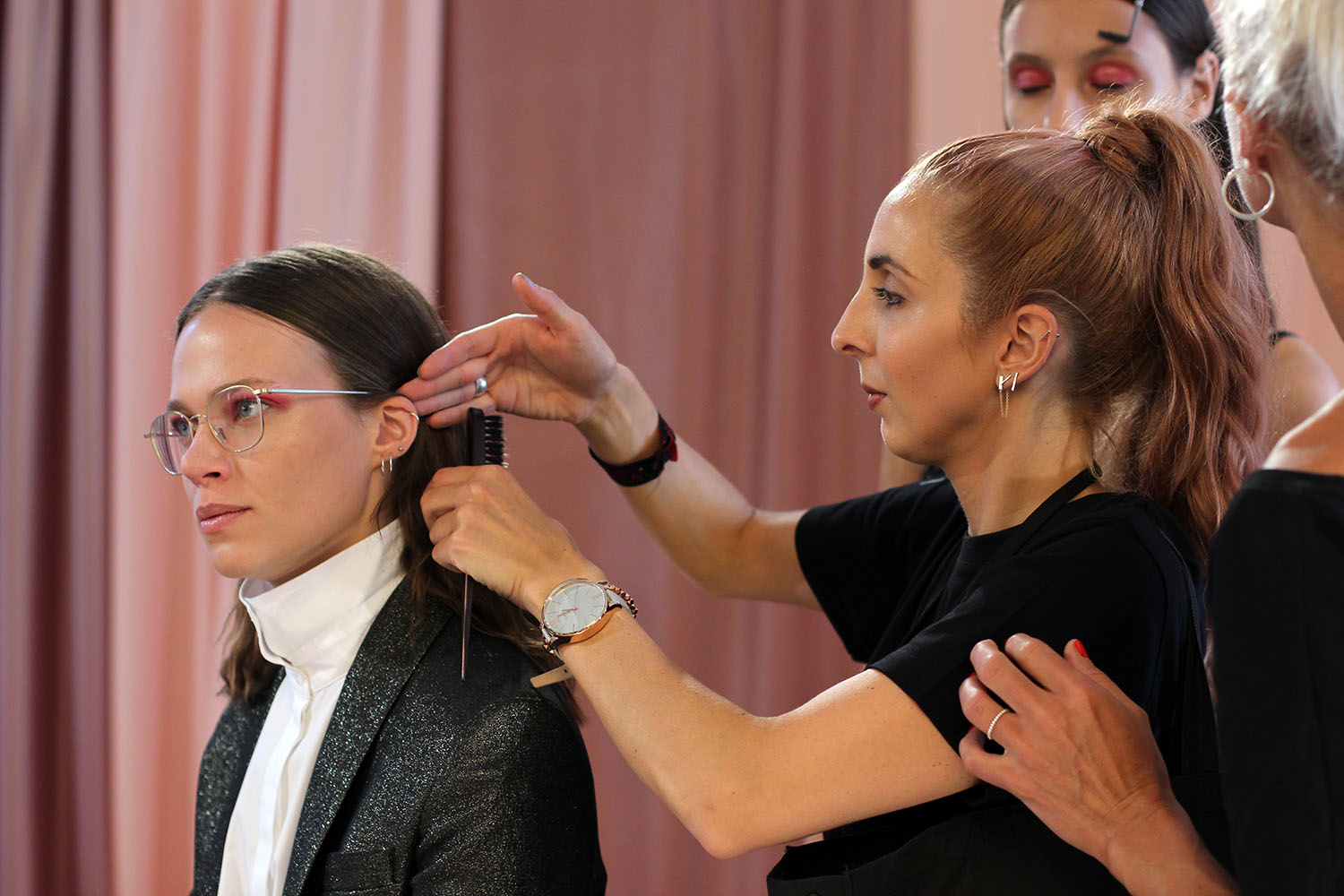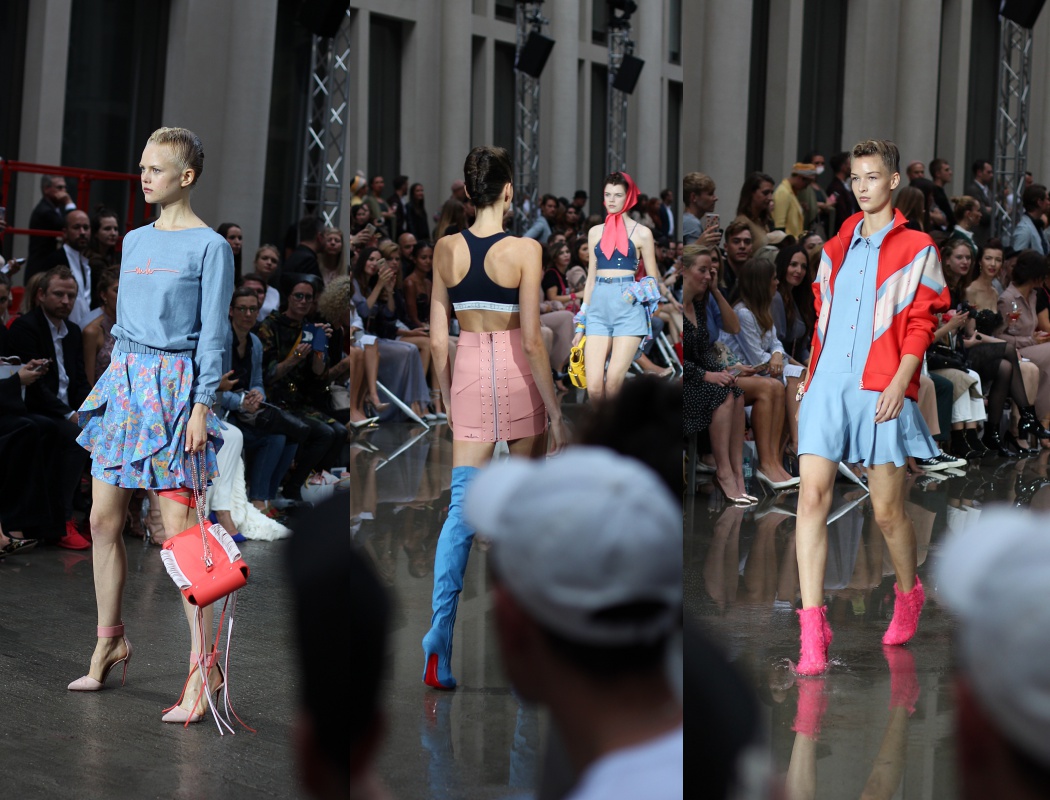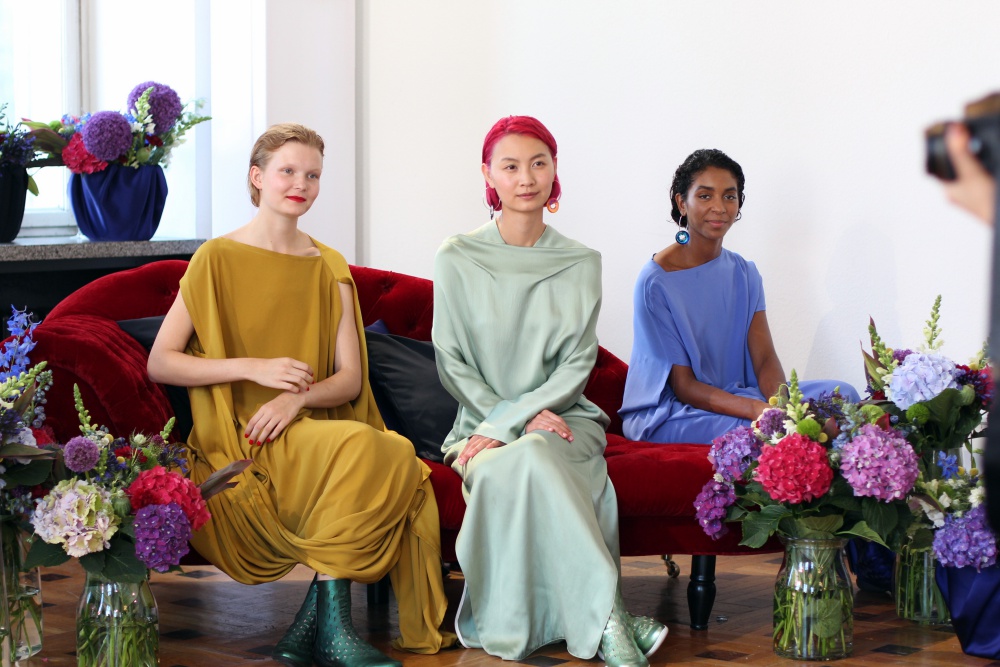 Curl-Power for William Fan
I can't deny, I can't deny… the curly look that was created for the show by William Fan, was my absolute favorite hairstyle. It starts with a tight twist at the roots and flows over into big waves and curls. Obviously I am a little bit curls-biased, but I love big curls, since they are playful and feminin but powerful at the same time – thus a perfect representation of the Feminin Empowerment topic.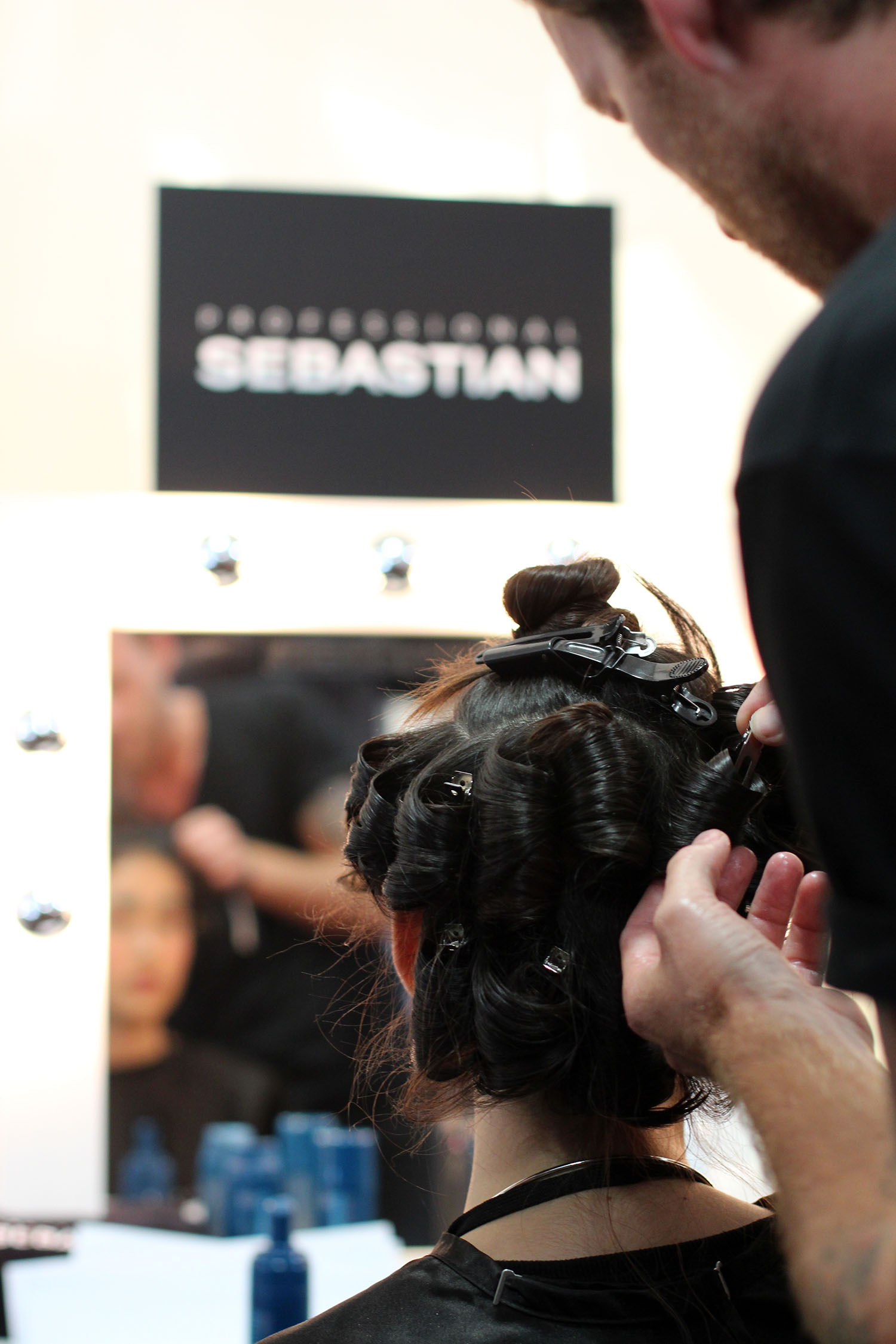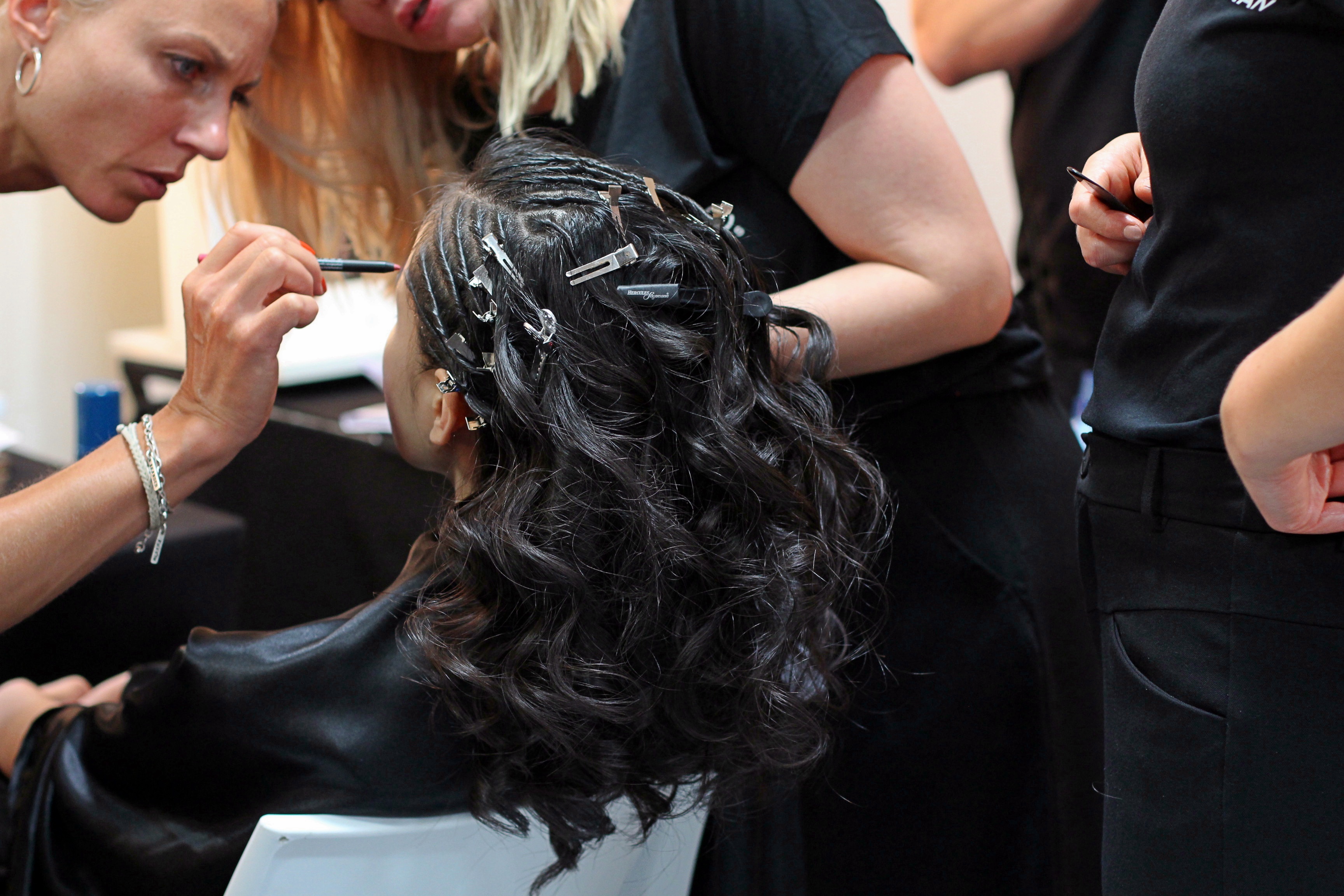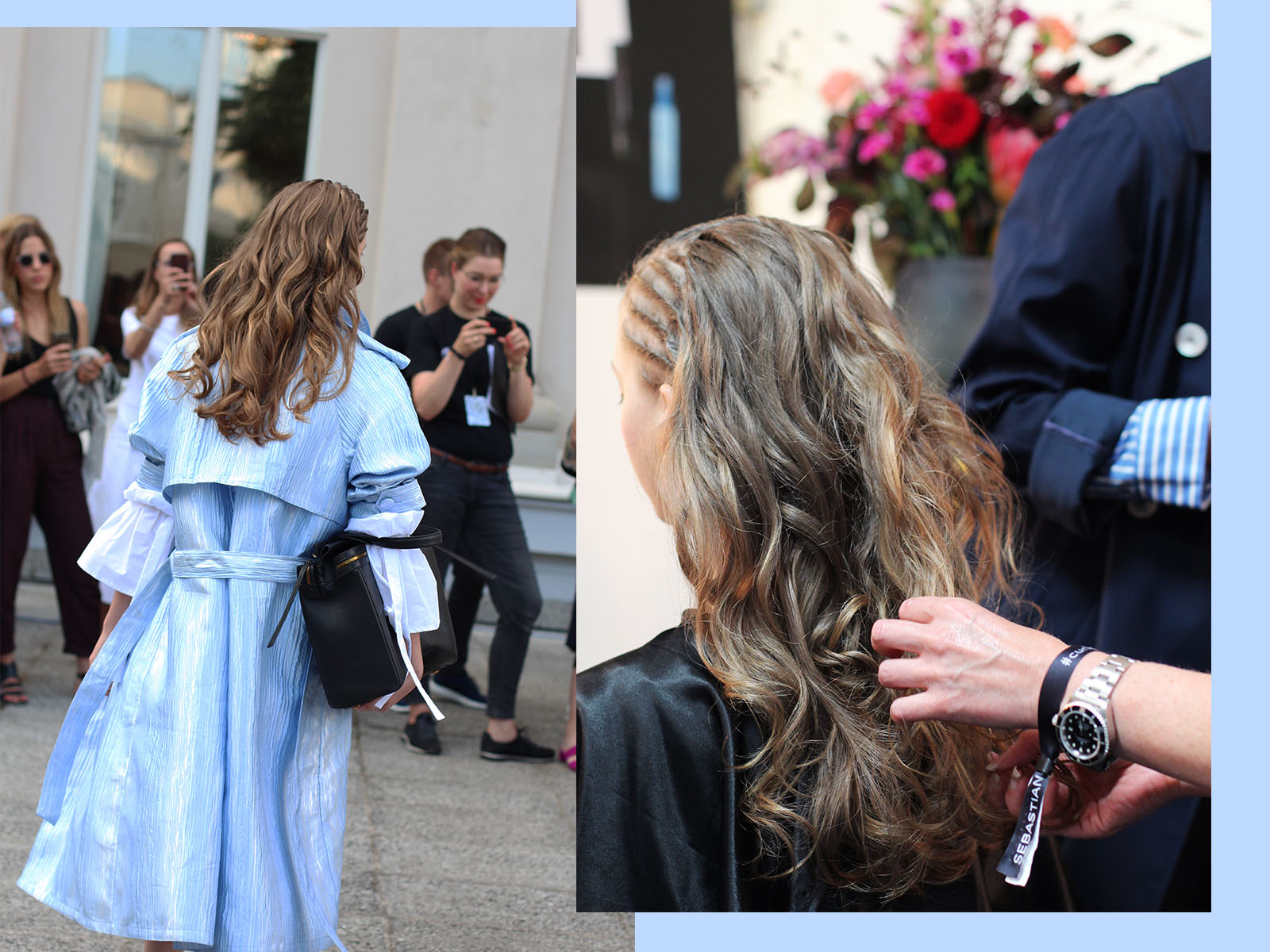 In friendly cooperation with Wella Professionals