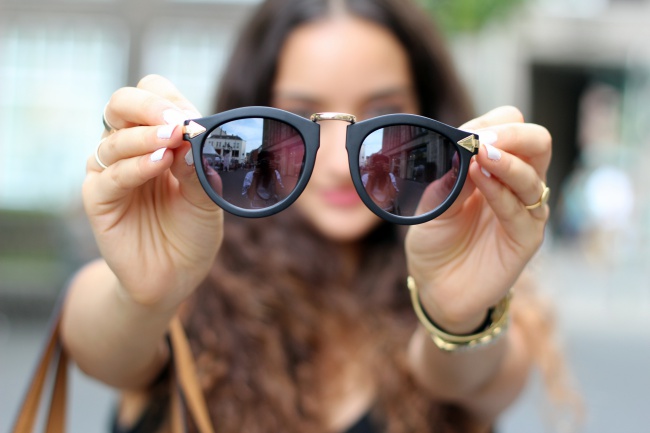 Vor einigen Wochen war ich auf dem Fashionblogger Café in Düsseldorf im Rahmen der GDS Schuhmesse. Da es an diesem Tag super heiß war, entschied ich mich mein luftiges Chiffon Maxikleid anzuziehen. Dieses Kleid habe ich bereits zwei Jahre und war eines der ersten Outfits welches ich auf meinem Blog präsentiert habe. Hier könnt ihr den Post sehen. Nach wie vor trage ich es super gerne, da es einfach super gemütlich und gleichzeitig echt stylisch ist. Außerdem kann man es auch sehr vielseitig kombinieren – während ich es in meinem alten Post eher elegant getragen habe, trug ich es auf dem FBC sehr alltagstauglich mit Zehentrennern und Shopper.
Auf dem FBC gab es eine tolle Aktion von Clarks, und zwar waren zwei ganz talentierte junge Damen da, die uns gezeichnet haben! Ich liiiiebe einfach das Bild was Monja (@monifaktur) von mir gezeichnet hat. Ich werde es mir auf jeden Fall aufhängen! Beim Gillette Venus Stand gabs ein kleines Fotoshooting mit lustigen, knallpinken Accessoires – also habe ich mir Geri geschnappt und sie gezwungen Fotos mit mir zu machen :)
-EN-
A few weeks ago I went to the Fashionblogger Café in Düsseldorf during the GDS Trade Fair. As it was really hot that day, I decided to wear a loose, maxi chiffon dress. Exactly that dress is one of the first outfits I presented to you on my blog, so I have it already for two years. Here you can find the post. And although its quite old, I still like to wear that dress – its just very comfy and and the same time it looks stylish. Also you can combine it in many ways, whether quite elegant as in my old post, or casual with sandals and tote like in today's post. 
During the FBC, Clarks had organized two extremely talented girls that were asked to draw us bloggers. I simply looove the picture Monja drew of me and I definitely will hang it up in my room. 
Dress – Zara / Bag – MCM / Sandals* – Schuhtempel24 / Sunglasses –  from a Bazaar